Annapolis Royal Façade Program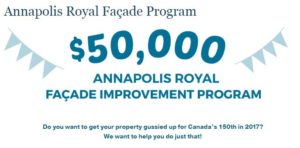 The Annapolis Royal Façade Program has now launched!
Building and business owners can now apply for a grant to help toward the cost of "gussying up" their building façade. Full details and application can be found at https://annapolisroyal.com/town-hall/facade-program/.
A joint partnership between the Town of Annapolis of Royal and AIRO, this program will cover up to 50% of the final actual costs of an eligible project to a maximum of $2,500.