Continual Transformation of the Academy!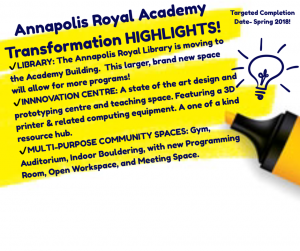 Have you heard the Big News? The Academy building will continue its amazing transformation into 2018! Over the past year the classroom and office space of The Academy has been converted into a beautiful condo development thanks to Jacob Tanner Developments, and NOW the remaining space will take on a life of its own.
On October 10th, Colin Fraser, MP for West Nova, on behalf of the Honourable Navdeep Bains, Minister of Innovation, Science and Economic Development and Minister responsible for the Atlantic Canada Opportunities Agency (ACOA) announced funding of $255,400 through their Innovative Communities Fund to be used in conjunction with a $230,822 investment from the Town of Annapolis Royal, $30,000 from the Province of Nova Scotia, $40,000 from the Municipality of the County of Annapolis, and the generous donations from the Friends of the Annapolis Royal Library totaling $115,290.
Today's investment in The Academy builds on commitments made to drive economic growth in the region. This type of modern community infrastructure helps connect people to jobs, provides better access to community services, helps attract new business and investment to the area, and encourages innovation and development in people of all ages.
We are so excited to start this special project for the community and the anticipated completion date is in late Spring / early Summer 2018. We'd like to thank everyone involved to date in making this project a reality, and to ACOA for their announcement which has been the final piece in the realization of this dream.  What is an Innovation Centre?  See below: