Christmas Extravanganza
The annual Christmas Extravaganza is back. All your shopping needs in three great craft shows and the Winter Farmer's Market. This year the shuttle bus is free!
Winter Market at the Historic Gardens: 9am-2pm
441 St. George Street
Free Admission
Lots of vendors will be on hand, with locally roasted coffee, baked goods, preserves, produce, fish, meat, eggs, cheese, hot foods and lots more. For details, call Trish at 902-532-7018.
Annapolis Royal Volunteer Fire Department Christmas Market: 9am-3pm
Annapolis Royal Fire Hall, 5 St. Anthony Street
$2 Admission
Great holiday shopping with over 60 vendors. For details, call Brenda Hamilton at 902-532-5896 or Vicki Smith at 902-638-8718.
Legion Christmas Market: 9am-4pm
Port Royal Legion Branch #21, 66 Victoria Street
Free Admission
Breakfast and lunch served. Get your picture taken with Santa Claus. Mrs. Claus will be serving hot chocolate and treats. 65+ vendors: folk art, handmade chocolates, knitted goods, baked goods, toys, jewelry, rugs, carvings, and lots more. For details, call Noel Young at 902-532-0609.
40th Annapolis Royal Farmers & Traders Christmas Craft Show: 9am-3pm
Champlain Elementary School, 109 North Street, Granville Ferry (Craft Show formerly held at ARRA)
Admission $2
80+ vendors: Jewelry, pottery, woodwork, stained glass, primitive dolls, lace and linens, quilts, soaps, baked goods, craft beer, coffee, furniture, woolens and more.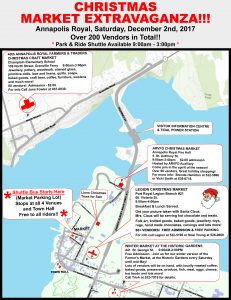 Related Events