Invitation to Tender the Supply of Generator and Transfer Switch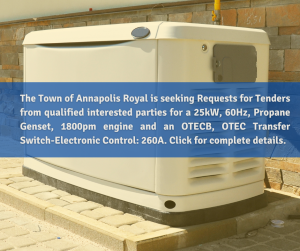 The Town of Annapolis Royal is seeking Requests for Tenders from qualified interested parties for a 25kW, 60Hz, Propane Genset, 1800pm engine and an OTECB, OTEC Transfer Switch-Electronic Control: 260A.
Specification will be sent to interested bidders upon request; you may contact the Regional Director of Public Works, Dan Wade dwade@annapolisroyal.com for any additional inquiries and specification documents.
Sealed submissions must be received by 1:00pm on Friday, February 17, 2023, marked "TAR 2023-01-01".
The Town reserves the right to reject any or all tenders, not necessarily accept the lowest proposal, and the right to accept any tender which it may consider to be in its best interest. The Town also reserves the right to waive the formality, informality, or technicality in any proposal.
Shipping and freight will be the responsibility of the supplier.
Click to see full details: TAR20230101