Peter Davies Legacy Clock Project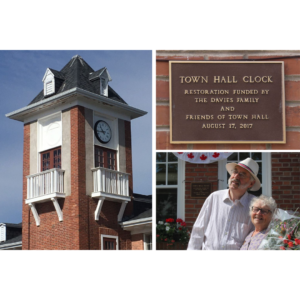 Dear Reader
You may have heard by now of Peter Davies' serious illness. Peter has been a fixture in our town for nearly a quarter century as our Town Crier, always there with his "Hear ye, hear ye" cry in his loud sonorous voice. He was there for every Canada Day, every Christmas, a regular at the Farmers' Market – every event that needed a little color, a little humor, and a little touch of what Annapolis Royal was all about. He will be sorely missed.
We intend that he should be honored. We who know him and believe he made a big difference for Annapolis Royal are asking for a contribution to help Peter complete his favorite legacy – a second clock to go next to the one he had placed on the Town Hall tower in 2017. This one will face Fort Anne and have programmable Westminster chimes. Initially the town would like to use the chimes to signal 12 noon each day, but there are many other options available including Christmas Carols.
Our campaign which started in late March is well on the way. With over six thousand donated we are about one third of the way there.  If you can help, please use the link below to go directly to the "Donate to This Campaign" page. This service, provided by CanadaHelps.Org, includes an instant tax receipt for your records.
https://www.canadahelps.org/en/charities/annapolis-royal/campaign/peter-davies-legacy-clock/