This Fall in Annapolis Royal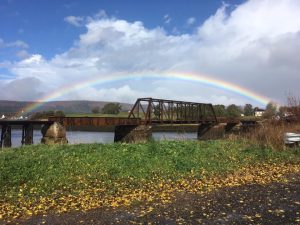 Frost may now greet us in the mornings and the leaves are parting with a colourful adieu, but that does not mean that the vibrancy of activities are relenting.
After much anticipation and hard work by many, the Library & Innovation Centre will open its doors this fall. What better way to spend the cooler days than in this new community hub? Be sure to stay tuned for the grand opening date and activities.
The ghosts and goblins once again come out to play in Annapolis Royal. Watch out for other worldlies the last two weekends of October for Ghost Town. Ghostly Gardens make a return, along with the Candlelight Graveyard Tours, free pumpkin carving at the 'O', the interactive Rocky Horror Picture Show, Home Hardware's annual kids Halloween Party, Haunted Brunch at Founders House, and lots more to come. The complete schedule can be found at https://exploreghosttown.wordpress.com/ghost-town-schedule/.
Honour those who have served the country in the Remembrance Day Ceremony at the Port Royal Legion Branch #21 on November 11th. The ceremony begins at 10:30am but please arrive by 10am.
The holiday festivities in town will kick off with the Annual Parade of Lights on November 30th. The parade begins at the Court House at 7pm with stops at Town Hall, the Farmers' Market, and the O'Dell House Museum. This year the Christmas Craft Shows will fall on the same weekend and will be held December 1st
For the most up-to-date details, check out the  online Community Calendar.