Summertime in Annapolis Royal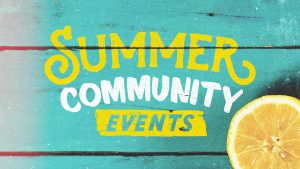 Summer is upon us and once again Annapolis Royal will be alive with festivities.  The summer season kicks off with a jam-packed day of Canada Day celebrations, including the second annual Community Kitchen Party on the Wharf. Come join us for a communal picnic set to the ambient music of the Kevin Roach Duo. Free lobster rolls for the first 500 people!
Set against the backdrop of the Annapolis Basin and surrounding hills, the Oqwa'titek Amphitheatre (the 'O') will host a multitude of events that are free for all to attend. There will be Friday night music geared toward getting the crowd up and dancing, Saturday afternoon entertainment, Tuesday daytime music, and bi-weekly line dancing lessons, not to mention the host of other events that will take place at the 'O' throughout the summer.
With another fun-filled Natal Days, a first Pride event, the Saturday Farmers Market, the new Sunday Craft Beer Farmers Market and a plethora of community activities, this year is set to once again be a memorable summer.
For the most up-to-date details, check out the  online Community Calendar.