Twinning group visit to Royan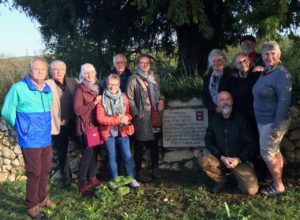 Between October 17th and October 22nd, the city of Royan, France was a
wonderful host to our twinning group members.
Mayor Bill MacDonald, councillor John Kinsella, twinning committee president
Christine Igot, twinning members Sally O'Grady, Susan and Harry Jost, Paul
Lalonde, Lillian Stewart, Mary Ann Gauvin, Alex Hancock and Phil Roberts were
all present.
At the welcoming ceremony on the Thursday night, Mayor MacDonald presented
Mayor Patrick Marengo with the gift of a white eagle feather from Chief Carol
Potter and the Council of L'Sitkuk First Nation. It was a very emotional moment
for all present.
The theme of our visit was « In the footsteps of Pierre Dugua ». Although we
spent an interesting first day visiting the city of Bordeaux, the rest of our visit was
in and about the port city of Royan where Pierre Dugua was born around 1558.
We were taken to see the remnants of his ancestral home on a little hill (mont)
which at the time was a separate village from Royan. We all learned this is why
Pierre Dugua has « de Mons » after his name !
We were lucky enough to benefit from a guided visit by Marie-Claude Bouchet
(retired president of the Royan Museum and author of a book on Dugua), whose
knowledge of and passion for Dugua was very appreciated by all of us.
We were also taken to the Château d'Ardennes in the village of Fléac where Pierre
Dugua spent the last years of his life and died on February 22nd in 1628. He is
buried there under a giant yew tree. We had the privilege of hearing more about
Dugua by Bernard Boucher who lived with his family and worked the farm of the
little Château for 40 years and who became very interested in the forgotten life of
Pierre Dugua.
As well as visiting Brouage which is the birthplace of Samuel de Champlain, we
spent time visiting Royan itself where there is an Annapolis Royal St! At a session
with the Royan mayor on Sunday morning, we discovered that despite the
difference in size of our populations (Royan has about 18,000 people), we share
many preoccupations: rising sea level, aging population and little room for
expansion.
A wonderful last evening with a Canada theme was organised in honour of our
own mayor Bill MacDonald. A talented blues player (Antony Stelmaszack) was
invited to a private soirée in a bar where he sang and played for us some of Bill's
favourite songs. A second guitar appeared and Bill also sang for us to the
appreciation of the crowd!
Youth representative Alex Hancock has stayed on in Royan doing an internship at
the Town Hall working with the environmental committee. We are pleased to
have been able to organise this stay for Alex with. We would like to thank Mme
Lyliane Isendick-Malterre, president of the Royan twinning committee and her
group for organising such an interesting trip for all of us.
On February 22nd, 2020, the twinning committee will be making a public
presentation on Pierre Dugua and his importance to our Town as well as showing
some slides of our trip to Royan. This presentation will take place at 10 am at the
Community Room at the Annapolis Royal Library. The event is free and open to
the public. We hope to see you there.