Important Public Notice- Proposed Traffic Flow Changes
Council for the Town of Annapolis Royal is considering recommendations from the Traffic Flow Advisory Committee that will create changes in Annapolis Royal. Prior to voting on the recommendations, Council wants to offer community members the opportunity for input.
The recommendations are summarized as follows and included on the attached map:
To make one block of St. Anthony Street one-way; the block between Victoria Street and St. George Street. Traffic would flow west bound, travelling in the direction of Fort Anne.
That a stop sign and a "no right-hand turn" sign be installed at the intersection of St. Anthony/St. George travelling from the lights down St. George Street, making the intersection a two-way stop.
Anyone wanting to provide input may do so via written submissions or in person at the February 21st Council meeting (6pm). Written submissions can be sent via email to admin@annapolisroyal.com or submitted to Town Hall prior to the February 21st meeting.
Proposed Traffic Flow Changes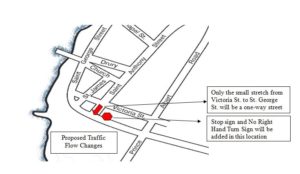 *** Edit ***
The proposed traffic flow change from the Traffic Flow Advisory Committee was presented to Council last month and they decided to seek public input before considering it.
Based on complaints received and confusion that occurs in relation to the Victoria/St. Anthony intersection as well as traffic issues related to delivery vehicles in the posted loading zone on St. Anthony, converting this short portion of street to one way will help reduce near misses at the intersection and ensure the safety of vehicle drivers pulling around the delivery trucks.
As a result, a no right turn sign is required on St. George at the intersection. The stop sign is proposed in response to a collective request for a stop sign from a public meeting in 2012 – but never implemented. It will help prevent a possible collision at the St. George/St. Anthony intersection involving both vehicles and pedestrians particularly when vehicles are pulling out of St. Anthony and turning left.
Please feel free to submit your written comments to Town Hall or attend the Council meeting on February 21st to provide your input.