Investment Committee: Extended Deadline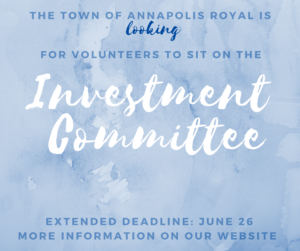 EXTENDED DEADLINE:
The Town of Annapolis Royal Council has passed a new Investment Policy– and we are now looking for volunteers to sit on an Investment Committee.
The Committee is responsible for monitoring the Town's investment portfolio and investment activities pursuant to this policy. We are looking for two citizen representatives who have qualifications in relation to finance and investment matters.
Please submit a resume/cover letter or a letter expressing interest to: admin@annapolisroyal.com or drop it off in person at Town Hall by Monday June 26th.
If you wish to see the policy you may visit our website at https://annapolisroyal.com/investment-policy/ or stop by Town Hall.