Pride Event
First annual Pride Day in Annapolis Royal!
9:00 am: Opening Ceremony at the 'O' Amphitheatre
9:30 am: Parade of Pride Walk & Dedication of the Rainbow Crosswalk
(Begins at the 'O' Amphitheatre and travels to the rainbow crosswalk between King's Theatre and the Market Plaza)
10:00 am: Opening of Pride Day at the Farmers & Traders Market: Town Crier Peter Davies (Market Square)
10:10am: Ride participants are escorted from the Market to the beginning of the trail head
Rainbow face painting at the Market, free rainbow stickers and ribbon bracelets available at events and stores throughout town.
The main event is the Valley Pride Ride which will see participants cycle the Harvest Moon Trail, a 110 km rails to trails route running from Annapolis Royal – Grand Pré. Participation in the Parade and the Valley Pride Ride is open to all,  even if you only walk a block, just cycle to the edge of town, or bike part of the Harvest Moon Trail. Pre-registration NOT required.
The Harvest Moon Trail begins near the Old Train Station, 151 Victoria Street, Annapolis Royal.
Free water is available at the service counters of Independent stores along the Harvest Moon Trail (Annapolis Royal, Middleton, Berwick, Kentville, and Wolfville).
Not participating in the Pride Ride? Stick around for music at the Market and 'O' Amphitheatre.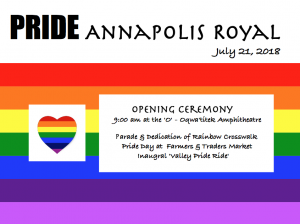 Related Events