Recreation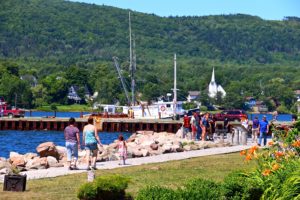 The Town of Annapolis Royal boasts many different features and unique options that are sure to appeal to the interests of all of our visitors, as well as our residents. Annapolis Royal prides itself on the fact that although we are indeed a small community, we are very diverse and offer something of interest for everyone.
The natural beauty of the Town and the surrounding communities provides the perfect place to escape the hustle and bustle and be active in the great outdoors.
If you have any questions or need more information, contact our Active Living Coordinator at (902) 955-1205 or by email at alc@annapolisroyal.com.
Sport Programs and Fitness Classes
Annapolis Royal Recreation offers and supports a number of weekly sport and fitness opportunities for residents and visitors.  Programs are run seasonally, and include Badminton, Volleyball, Ball Hockey, Basketball, Table Tennis, Pickleball, Indoor and Outdoor Soccer, Fitness and Wellness classes, and more.  For current information on these programs and opportunities and how and if they are operating in lieu of the COVID-19 Pandemic, please click here.
Annapolis Royal Gym
The Town gymnasium is a hub of activity for all ages all year long. Click here to view the schedule of events or contact our Active Living Coordinator for more details and availability.  Please note: due to the Covid-19 Pandemic, the gym is not available for private rentals at this time.
Location: 578 St George Street, Annapolis Royal.
Annapolis Royal Recreation on Facebook
Annapolis Royal Recreation has its' own Facebook page that features ongoing updates about recreation opportunities in Annapolis Royal, as well as fun tips and strategies for for staying healthy, fit, and happy.  Please click here to visit this page, "like", and join!
Walking
April 29, 2022 – Construction on the Harvest Moon and French Basin Trails is complete and the trails have reopened. 
Right in Town, the French Basin Trail is a 45-minute walk around a Ducks Unlimited wetland. Keep an eye open for several species of ducks, at least one pair of Great Blue Herons, a family of muskrats and possibly our resident foxes. The well-maintained gravel trail around the marshland leads into the railbed trail that goes east or west as far as your feet will take you. http://www.ducks.ca/news/prov2003/032822.html or read about and view photos of the trail – Annapolis Marsh Walker
Another option for a walk in Town is along the waterfront boardwalk that winds along the seaside. The boardwalk can be easily accessed throughout the downtown; either across from the Farmer's Market behind King's Theatre or near Town Hall and our soon to be amphitheatre. Enjoy crisp ocean breezes and take in the beauty of the rising and falling Fundy tides as you stroll along.
Tick Talk- Learn more about ticks and get some tips on prevention HERE
Hiking
Just a short drive from downtown Annapolis Royal offers you a myriad of hiking opportunities.
Delaps Cove Wilderness Trail is a nature trail located on the shores of the Bay of Fundy in Annapolis County, Nova Scotia, just 24 kilometres from Annapolis Royal. The trail meanders through 130 acres of canopied forests. Nature enthusiasts may enjoy the natural splendour of the scenery and breathe in the briny, salt air from the windswept coastline of the Bay of Fundy. http://www.annapoliscounty.ns.ca/rec/delaps.htm
Mickey Hill Pocket Wilderness is located along Route 8 in Greywood and is a provincially maintained park and wilderness trail. Just 10 kilometers from Annapolis Royal the trail provides enjoyable walking, hiking, cross country skiing, and snow shoeing experiences through the forest and includes picnic tables and beach access on Lambs Lake.
Lequille Grist Mill can be found on the Dugway Road, off Route 8 in nearby Lequille. This site features a Nova Scotia Power Plant disguised as a 17th Century grist mill. It is located on the site of North America's very first grist mill (1607).
Kejimkujik National Park and National Historic Site is another favorite for outdoor enthusiasts.  Located 46 kilometers south of Annapolis Royal off Route 8, Keji, as it is known by locals, offers a variety of trail systems with varying degrees of difficulty. Enjoy a quick leisurely hike, or embark on a six day journey through the back-country and encounter a number of terrains. Many of Keji's trails are open in winter for snowshoeing and cross country skiing as well. For more information visit: http://www.pc.gc.ca/eng/pn-np/ns/kejimkujik/index.aspx
Bicycling
Our roads don't yet have any designated bike paths, but the flat terrain in and around Annapolis Royal makes for easy cycling. The Harvest Moon Trail gets you off the main roads and gives you a close-up view of the Annapolis Basin and Annapolis River. The Municipality of Annapolis County has published a helpful guide called Bicycle Annapolis County. http://www.annapoliscounty.ns.ca/rec/rec.htm.
Detailed information on the Harvest Moon Trailway, which runs from Annapolis Royal all the way to Grand Pré can be found here: https://destinationtrailsnovascotia.com/
Canoeing & Kayaking
There's water almost all around us, so choose your location for an afternoon of canoeing or kayaking: head up the historic Annapolis River to see some of our lovely villages; head down into the Annapolis Basin toward Goat Island; slip upstream in Allain's River, which takes you through an Acadian saltmarsh. Caution: our famous tidal range (averaging 6 m/21 ft.) may affect conditions on the water and ashore. Check a tide chart before setting out. Annapolis County Recreation Services offers a comprehensive book called "Canoe Annapolis County: A Paddler's Guide to Outdoor Adventure". Find out more at http://www.annapoliscounty.ns.ca/rec/canoe.htm.
Playgrounds
Kids and kids at heart need time outdoors too! The Grant Potter Memorial Park located at 167 St. George Street in downtown Annapolis Royal is a wonderful place to burn off some energy. Next to ocean views, the naturalized park features an adventure hill with climbing and sliding and tons of fun for young and old alike. Please note that the playground is closed during winter months when there is ice and inclement weather.
Swimming
Surrounded by ocean, with lakes nearby at every turn, and a beautiful community pool, Annapolis Royal is a great destination for water lovers.
For a day at the lake visit Raven Haven Beachside Family Park. Located at 2239 Virginia Road, West Springhill on Sandy Bottom Lake, Raven Haven is a short 20 minute drive from Annapolis Royal and features swimming, boating, and fun for the whole family. Visit http://www.annapoliscounty.ca/community-development/raven-haven-beachside-family-park for all the information you need.
If a pool or splash pad is what you are looking for, look no further than Annapolis Royal Community Pool. The pool can be found within Annapolis Royal at 62 Champlain Drive. The pool is open for swimmers of all ages all summer long. And for the younger kids, the splash pad next to the pool is the best place to cool off after some time in the sun. For more info, visit https://www.facebook.com/annapolispool/
Tennis
Annapolis Royal is home to two newly refurbished tennis courts. Contact our recreation department at alc@annapolisroyal.com or 902-955-1205 for more information or to obtain the code to the gate lock.  Use of this facility is free of charge.
The Annapolis Royal Tennis Club also happily accepts new members to join in scheduled play times and summer tournaments.  For more information, please visit their site at https://artennisclub.weebly.com/.
Skate Park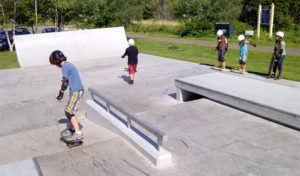 Youth and adults working together, they envision the creation of an inclusive park in the Annapolis Royal Area that is welcoming to people of all ages and diverse interests. The park has excellent skateboarding facilities, green space, shade trees, walking trail, and benches for spectators. Bringing about this concrete vision resulted in changes in perceptions of skateboarders from 'punk vandals' to contributing members of the community.
Dog Park
The first registered dog license was issued in Annapolis Royal in 1899 to a dog named "Paddy". To commemorate this celebrity pup, Annapolis Royal has named the public off-leash dog park "Paddy's Park"! We're sure Paddy's owners would have been proud!
Located at 112 Prince Albert Road, next to the Skatepark and French Basin Trail entrance, Paddy's Park is a 120'x65′ fenced in area where you can take your dog for off leash fun! Open from dawn until dusk, there is also plenty of parking on site (and sometimes barking too!).
Valley Connect
Looking for activities to do throughout the Annapolis Valley? Www.valleyconnect.ca is an online database of programs, resources, events, facilities, and trails located in the Annapolis Valley.  This easily searchable online tool is a convenient way to find interesting, active things to do right here in the Valley.  If you are a member of a local group, club, or organization that offers opportunities to be active, you may also submit your information to be added to the database.  Check out www.valleyconnect.ca to learn more!

Golfing
For golf lovers, the Fort View Golf Coursee is the place to be. This 18 hole, par 70 course challenges you while offering breath taking scenery of the Annapolis Basin. Located just five minutes from Annapolis Royal at 3816 Highway 1, it is a great place to practice your swing. For more information check them out at https://fortviewgolf.com/.
Fishing
The natural waterways that surround Annapolis Royal offer some great fishing opportunities. Fish from ship or shore for the prized striped bass, often caught in excess of 40lbs. Lighter tackle can be used for the increasingly popular mackerel run or relax while ice fishing for smelt. Outdoor opportunities are ever increased as you explore the region surrounding Annapolis Royal. Fish the many local lakes for speckled trout, including First Lake in Lequille which is stocked annually for a fishing derby!
Outdoor Ice Skating (Seasonal)
Don't let the winter months keep you from being active. Grab your skates and head over to the
your moves, or pick up where you left your ice skating career many years ago. For current ice availability be sure to be in touch with our recreation department.  The location for the Rink for 2020-21 is the Farmers Market Plaza!
Boating – Town Wharf with Floating Dock access
The Town Wharf features a gangway, floating dock and four guest moorings in the middle of the Annapolis Basin.  Completed in 2014, the floating dock allows boaters to land safely at the Wharf through a greater range of tide! The floating dock is in place from April to November.
Moorings for visiting vessels are available on a first-come, first-served basis at a cost of $20 per night.  Payment can be made at the Mad Hatter Book Store or the Mad Hatter Wine Bar, 213 St. George Street.
Location: St. George Street, between King's Theatre and the Haul-Up, Annapolis Royal