Visitors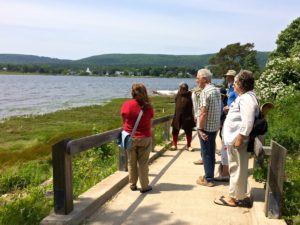 Planning your next Annapolis Royal Vacation? Look no further! Annapolis Royal is the perfect place to plan your vacation, overnight stay, or day trip. A short 2 hour drive from Halifax, 1.5 hour drive from the Yarmouth Ferry or 30 minute drive from the Digby Ferry, Annapolis Royal is easily accessible.
Step back in time to stroll through a designated National Historic District that is 2 km² of quaint tree lined streets peppered with heritage homes and beautiful gardens. With one of the highest concentrations of heritage building in Canada (135 and counting), the Town of Annapolis Royal contains an unusual treasure of heritage buildings, including the oldest wooden frame buildings in Canada. The charm of this small sea-side town that is deeply steeped in history and tradition will leave you wanting to extend your Annapolis Royal vacation.
Idyllically situated between mountain and sea, Annapolis Royal offers a stunning waterfront shopping area, an enviable selection of restaurants and world class accommodations, important heritage sites, an exciting arts community and theatre, wonderful recreational opportunities, and Canada's 2015 Garden of the Year winner. All of these to combine to make Annapolis Royal the ideal holiday destination!
Contact our Visitor Information Centre for all your questions regarding our area and to make the most of your Annapolis Royal Vacation.
Annapolis Royal and Area Visitor Information Centre – June 1st – October 15th
Annapolis Royal Comfort Centre
24 Drury Lane
902-532-5454
annapolisvic@gmail.com
Town Hall – Off-season
285 St. George Street
Box 310, Annapolis Royal, NS
Ph: (902) 532-2043 / (902) 532-7760
admin@annapolisroyal.com
Please note Town Hall has free all-day parking lots, click here for more information: 
Boating – Town Wharf with Floating Dock access
The Town Wharf features a gangway, floating dock and four guest moorings in the middle of the Annapolis Basin.  Completed in 2014, the floating dock allows boaters to land safely at the Wharf through a greater range of tide! The floating dock is in place from April to November.
Moorings for visiting vessels are available on a first-come, first-served basis at a cost of $20 per night.  Payment can be made at the Mad Hatter Book Store or the Mad Hatter Wine Bar, 213 St. George Street.
Location: St. George Street, between King's Theatre and the Haul-Up, Annapolis Royal.