Annapolis & District Natal Days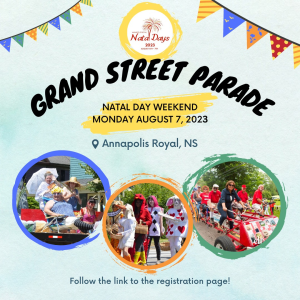 It's that time of year again folks! Get your registration in for Natal Days Grand Street Parade!
To our community, supporters and volunteers, the  Annapolis Royal Natal Days are happening ! Keep an eye on the FB page for updates. Thank you for your continued support.
Thank you to all the volunteers who make this event a success year after year.  Natal Day Committee.
The most recent updates can be found here: (20) Annapolis Royal Natal Days | Facebook