Sister Cities – Twinning
Annapolis Royal has two sister cities – Annapolis, Maryland and Royan, France.
Both sister cities share strong historic and cultural ties with Annapolis Royal, and the formalization of twinning ensures these ties will remain strong for years to come.
Annapolis Royal's twinning is lead by elected members and volunteers through the Twinning Committee, a sub-committee of the Marketing and Economic Development Committee.
Annapolis, Maryland
Annapolis, Maryland and Annapolis Royal were both named after Queen Anne and share a rich military history, with Annapolis, Maryland home to the United States Naval Academy and Annapolis Royal to Fort Anne.
Annapolis, Maryland was once the capital of the United States while Annapolis Royal was the original capital of Nova Scotia.
Both communities share a strong maritime tradition and a commitment to heritage, culture, and the arts.
Visit the website for Annapolis, Maryland to learn more.
Royan, France
Royan, France is a popular resort town on France's Atlantic coast. In the early 17th century however, it was a hotbed for French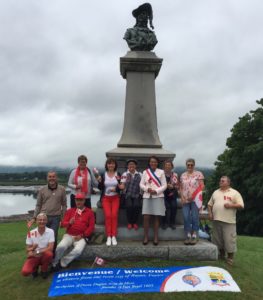 colonization of New France and Acadia. The twinning of Royan, France and Annapolis Royal officially acknowledges the special link connecting the two communities.
Royan is the birthplace of Pierre Dugua de Mons, a merchant-explorer who received exclusive colonization rights and a fur trade monopoly from Henry IV in 1603. Annapolis Royal is the present-day incarnation of Dugua's first successful settlement, Port Royal founded in 1605 by Dugua and his better-remembered cartographer Samuel de Champlain. (Incidentally, de Champlain was born just up the coast from Royan, near present-day La Rochelle).
The twinning of the two municipalities is motivated by a desire to develop ties of friendship between peoples, to promote mutual understanding that supersedes linguistic and cultural boundaries and to increase contact between the two communities, particularly between professionals and youth.
Visit the website for Royan, France to learn more.
Twinning Visit 2023