144 St. George Street
144 144 St. George Street, Annapolis Royal, Nova Scotia, B0S 1A0, Canada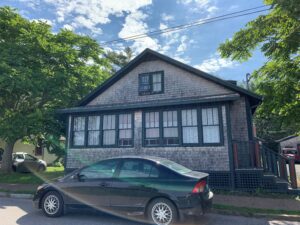 Other Name(s)
Philip Roberts (and other owners including Lawrence and Harris Hall, Patrick Kelly)
Links and Documents
Construction Date(s)
Possibly 1914; with later additions
Statement of Significance
Description of Historic Place
144 St. George Street, Annapolis Royal, N.S., encompasses several semi-attached buildings one which, also serving as a residence, is defined as 146 St. George Street. The main building, 144 St. George Street, a one-and-a-half storey house, seems to date from 1935 and has features reminiscent both Craftsman and California Bungalow design from that era.
The building has been extensively refurbished and now presents a nicely proportioned front to St. George Street clothed like the remainder of the structure in wood shingles. The building occupies part of the Anglican Church Glebe, and, apart from its considerable extension to the south (including the separately defined 146 St. George Street), is part of a complicated property genealogy. The area encompassing the property site served several purposes from original Anglican Church, to blockhouse, town jail and pillory. The site also formerly contained structures for the Commercial House, Hall's, Acadia and Hardwick's hotels.
Heritage Value
The heritage value of 144 St. George Street lies mainly in the historical associations of the site, formerly active commercially due to adjacency to the Ferry Slip and maritime activity.
Historic Value
The historic value of 144 St. George Street relates to its historical associations and to a lesser degree to the pleasant Craftsman vernacular form of its structure.
Architectural Value
The architectural value of 144 St. George Street lies in its simple but symmetrical composition of its main front, neat articulation of the windows, particularly on the projected and enclosed front verandah, and consistent use of wood shingling. The building is best described as being of one-and-a-half storeys raised on a low masonry base. The upper floor occupying the gable of the main roof and side projections with flat roofing and dormer windows. The articulation is equally modest yet appealing, as on the side steps giving entrance into the verandah. The house exemplifies unostentatious domestic building in the region from the inter-War period.
The house has been reasonably well integrated with the array of additions constructed to the rear.
Source: Heritage Property Files, MAP#207 and 214 [representing the separate address assigned to the attached residences on the property] - 144 and 146 St. George Street, Town Hall, Annapolis Royal.
Character-defining Elements
Character-defining elements of the Philip Roberts House, 144 St. George Street, relate its – much diluted -- Craftsman/ California Bungalow influences and include:
--one-and-a-half storey scale and symmetrical massing of the main façade,
--gable-ended street façade,
--projected enclosed front verandah with side entrance via wooden steps,
--cross-axial, flat, roofs over the upper level accommodation with dormer windows,
--simple but neat articulation of window and door frames,
--consistent wood shingle siding.
Recognition
Historical Information
Function - Category and Type
Additional Information