200-204 St. George Street
200-204 St. George Street, Annapolis Royal, Nova Scotia, B0S 1A0, Canada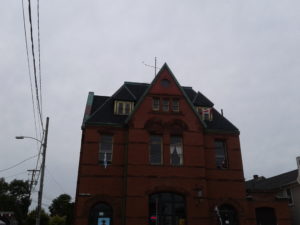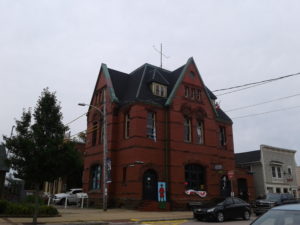 Other Name(s)
Post Office and Customs Office
Links and Documents
Construction Date(s)
1889-1890
Statement of Significance
Description of Historic Place
200 St. George Street, Annapolis Royal, NS, is the main historic edifice in the Town by virtue of its scale, architectural sophistication and structural quality. It rises three full stories above a partially raised basement, its imposing mass augmented by the steep mansard roof and attendant projected central gable and large dormer windows. Quite literally the former Post and Customs Office Building dominates the historic lower town district. The masonry, brick and metal materials are much more extensive than on any other structures at Annapolis or, indeed, the region. It survives in use, part commercial-part residential but has to find a suitable single modern function; as a consequence it requires extensive conservation. The building has national, provincial and municipal designation
Heritage Value
The heritage value stands very high both in terms of the history of the site prior to the notorious 1888 fire and the primary role of the Post and Custom Office in the commercial and social life of the town and region well into the Twentieth century. Moreover the building is a notable example of the Scots Baronial-French Chateau style adopted by the federal Department of Public Buildings and Works as material and symbolic statement of the Confederation across the then Dominion of Canada. That political purpose was further expressed in the use of durable high-quality construction materials, further enhanced by high-quality architectural detailing. Those find particular emphasis in the banded stone work on the arched entrances, the horizontal masonry and brick mouldings, the articulation of the main floor and dormer windows and the application of copper.
Character-defining Elements
Character-defining elements of the former Post Office and Customs Building relate to the excellent application of the Scots Baronial-French Chateau style and include:
-substantial scale of the structure,
-consistent application of stylistic features from the projected and gabled centre of the main façade, to the mansard roof and dormer windows,
-the use of rusticated stone for the arches of main entrances and for mouldings across the building,
-high-quality detailing of the fenestration, notably on the upper floor, properly following the precedent of the French Chateau mode,
-the use of high-quality building materials, including brick and copper, throughout,
-the equally high level of building craft throughout.
Recognition
Historical Information
Function - Category and Type
Additional Information