424 St. George Street
424 St. George Street, Annapolis Royal, Nova Scotia, B0S 1A0, Canada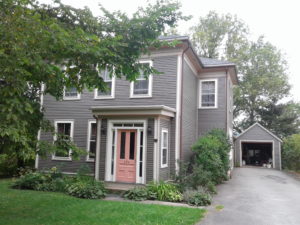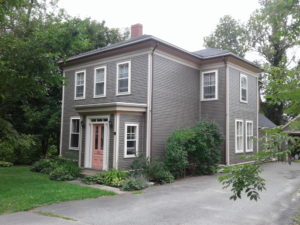 Other Name(s)
Rufus Hardwick House
Links and Documents
Construction Date(s)
Circa 1888; remodelled 2014 ((?))
Statement of Significance
Description of Historic Place
424 St. George Street, also known as the Rufus Hardwick House, was built in circa 1888 likely by Ella Bonnett Gavaza shortly after her father, Peter Bonnett, sold her the land. The site abutting the former Dominion Atlantic Railway and its Annapolis Royal station, had formed part of the Acadian lands appropriated after the British seizure of the Fort in 1707; in 1732 Paul Mascarene received a grant for 8 acres lying between land owned by Antoine Belliveau dit Blondin and the Whitehouse Field. The present 2 storey, 3 bay wood frame and clapboard house passed through several owners, especially during the 1970s, and was in poor condition by the beginning of the next decade. The original house had been a modest, and quite late, version of the Italianate taste, as popularized in the many pattern books published during the Victorian era. The most prominent feature was the verandah, notable for its slim columns and ornamental fretwork elliptical arches. The structure was preserved in a major renovation completed in circa 2014, but its historic form considerably altered. The verandah that had spanned the street front and original entrance in the east side projected bay was removed. A new single-storey entrance porch was built onto the east bay and the original 2 ground floor windows reconfigured into a single triple window. The fenestration and cladding was also modernized.
Heritage Value
The heritage value of 424 St. George Street now relates mainly to its historical associations since the present building, while in keeping with the historic district of the upper town, represents substantial remodelling.
Historic Value
The historic value of 424 St. George Street, also known as the Rufus Hardwick House, lies mainly in its historical association with the transition of land tenure from French and Acadian to British ownership, and the development of the upper town from the later Victorian period. The municipal historic designation preceded the recent remodelling.
Architectural Value
The architectural value of 424 St. George Street lies chiefly in its original Italianate villa form, substantively altered during recent, albeit sympathetic, remodelling. The removal of the verandah, repositioning of the entrance and new fenestration have retained the original scale but not the original form or appearance.
Source: Heritage Property Files, MAP#73 – 424 St. George Street, Town Hall, Annapolis Royal.
Character-defining Elements
The original character-defining elements of 424 St. George Street are largely absent apart from the scale, main massing and type of cladding. Nonetheless, the remodelled building is in character with the upper town district and include:
--rectangular main building with projected side bay and lower rear section;
--new single storey porch on the east front bay;
--symmetrical placement of windows;
--clapboard cladding.
Designation (file reviewed July 2018)
Authority
Local Governments (NS)
Statute
Heritage Property Act
Type
Municipally Registered Property
Date
1982/05/21 ((?))
Recognition
Historical Information
Function - Category and Type
Additional Information