530 St. George Street
530 St. George Street, Annapolis Royal, Nova Scotia, B0S 1A0, Canada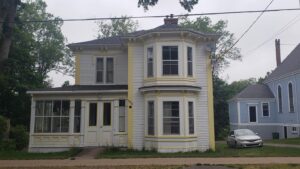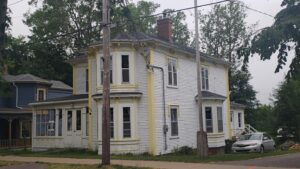 Other Name(s)
Johnson House
Links and Documents
Construction Date(s)
1873-1875
Statement of Significance
Description of Historic Place
530 St. George Street stands on part of the historic Belliveau property and was built between 1873 and 1875 when briefly occupied by John Lockwood and his wife Harriet before purchase by John Johnson. The house was built in a simplified version the then fashionable Italianate style.
Heritage Value
The heritage value of the house derives from its association with the Belliveau property on which it stands, its succession of owners prominent in Annapolis society and the quality of its architecture and construction. The building contractor – most likely John Johnson – followed the prevailing taste for Italianate design which was widely promoted in contemporary architectural pattern books. The house retains almost all its original features including the west side, enclosed and extensively glazed entrance lobby and veranda. This component augments the asymmetry of the composition of the house. That comprises two rectangular blocks, the larger of the two fronted by bay windows and extending into the rear ell. The house is constructed of wood with horizontal weatherboarding and crafted ornamental features.
Historic Value
The historic value proceeds mainly from the geographical association with the celebrated French settler Belliveau family, and the social prominence of its earlier owners. In addition the house is a good example of the switch in villa and small house design from mid-century Neo-Gothic to the Italaianate fashion. It has been little altered fromits original form.
Architectural Value
The architectural importance of 530 St. George Street lies in its representation of the transition from Gothic to Italianate in residential design. That is manifested in the application of pilasters with modestly ornamented capitals to mark the edge of each architectural section, The pilasters figure most strongly on the low entrance lobby-cum-veranda on the west side. The cornice of this element is decorated with well-detailed brackets. These brackets repeat in the main cornice, breaking forward over the projected east side two story block and double-height bay windows. The brackets also recur on the horizontal entablature marking the upper floor level on the main faced.
The wood construction, cladding and ornamentation retain the original build. It is a pleasing example of the later nineteenth-century North American villa type.
Source: Heritage Property Files MAP#63-530 St. George Street, Town Hall, Annapolis Royal.
Character-defining Elements
Defining features follow from the adoption of the Italianate mode and include;
asymmetrical massing of the accommodation through attached, single story entrance lobby and verandah,
three-sided bay windows with decorated frames on the main façade and, east side (lower level only),
enclosure of the structural components with pilasters having simply ornamented capitals,
application of decorative brackets in the entablature and cornice of the main façade,
horizontal weatherboarding,
well-proportioned windows,
glazed double entrance doors.
Recognition
Jurisdiction
Nova Scotia
Recognition Authority
Local Government (NS)
Recognition Statute
Heritage Property Act
Recognition Type
Municipally Registered Property
Recognition
Historical Information
Function - Category and Type
Additional Information