762 St. George Street
762 St. George Street, Annapolis Royal, Nova Scotia, B0S 1A0, Canada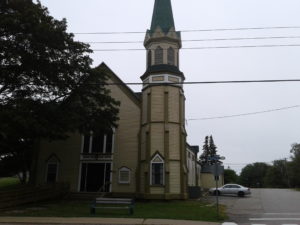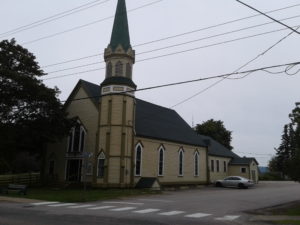 Links and Documents
Statement of Significance
Description of Historic Place
762 St. George Street, Annapolis Royal, NS, is the site of the Baptist Church. Erected in 1873-1874, the church represents a fine example of the craft Gothic style that is the adaptation of medieval Gothic design forms, chiefly for functioning components such as doors and windows but also the decoration of the major symbolic feature, the octagonal bell tower and steeple. The chief defining design characteristic is the pointed arch. The main architectural features face the upper section of St. George Street and sited so as to display the Gothic-inspired features to good effect.
Heritage Value
The Baptist Church has served the local congregation un-interrupted since consecration in 1874. This continuity of worship has survived various difficulties financial and societal plus the loss of the Church papers and records in the fire at the Post Office in March 1920.
The Baptist Church is notable for its good architectural quality and the relative absence of complete Gothic Revival buildings at Annapolis Royal; the Anglican St. Luke's Church remaining basically a Colonial structure with mediaevalizing and ecclesiological features being superimposed well after original building.
Members of the congregation have contributed much to local society and the regional culture.
Character-defining Elements
-consistent and well-executed Gothic Revival articulation,
-craft Gothic octagonal tower, belfry and steeple, positioned distinctively on the east side of the main, entrance façade,
-Gable-ended nave, encompassing the whole original worship space,
-traceried window above the main entrance with stained glass,
-etched glass in the side windows,
-pointed arch functioning components for circulation and lighting,
-craft Gothic side pinnacles, hood mouldings and gables,
-well-maintained wood construction and decoration.
Recognition
Historical Information
Function - Category and Type
Additional Information