Building Guidelines
Annapolis Royal is a unique Town. It has outstanding history, built heritage, culture and a beautiful natural setting. Most of the Town is included in a National Historic District, which includes about 135 registered heritage buildings. Of these heritage buildings, several are designated as National Historic Sites, while several others have provincial designation, and the remainder are municipally designated. These assets need to be conserved and restored in an appropriate manner, and to be emphasized and included in our marketing and support of the Town. To meet these objectives we need to encourage homeowners to protect these scarce heritage assets.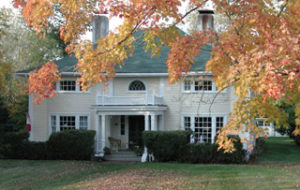 Definition of a Heritage Building: A building which was constructed prior to 1940.
Definition of a Registered Heritage Building: A Registered heritage building is a structure which has been registered as such at the Registry of Deeds in Lawrencetown.
Role of Planning and Heritage Advisory Committee
All proposed changes to registered heritage buildings must be submitted to the Planning and Heritage Advisory Committee in advance of any work being done. Appropriate application forms are available at the Town Office. If no material change, such as re-shingling with the same kind and colour of roofing, etc., is anticipated, submission to the Planning and Heritage Advisory Committee is not essential. However, the submission of changes to the Committee allows the approval of the HST Rebate application, mentioned in 3 b) below, to proceed more smoothly
Guidelines
The following guidelines are for homeowners, developers, architects, building contractors and real estate agents:
Registered Heritage Buildings


| | |
| --- | --- |
| Type of Work | Preferred Approach |
| Exterior Building Materials Generally | traditional materials, such as wood, brick, stone, etc. |
| Doors & storm doors | wood |
| Garage Doors | wood |
| Roofing | wood shingles, shakes, slate, etc.(asphalt shingles are an acceptable alternative) |
| Windows & storms | wood(Aluminum storms with baked enamel coating are an acceptable alternative) |
| Colours | traditional |
| Fences | Wood, wrought iron, etc. |
| Signage | Wood, wrought iron, etc. |

While these are the preferred approaches, the Planning and Heritage Advisory Committee may be
willing to consider other options in certain cases and invites open dialogue from owners who have
different needs for their properties.
All other Buildings, Including New and Existing Construction
Traditional designs using traditional materials should be continued, so that the essential character of the Town will be maintained. Sinclair Mews and the Robert Hall Funeral Home are examples of good architecture that fits within the historic buildings of Annapolis Royal. The Liquor Store and the Post Office are examples of architecture more suited to less historic Towns.
Provincial Government Assistance for Registered Heritage Properties
Provincial government assistance for registered heritage properties may be available through the Department of Communities, Culture and Heritage. For more information, please click here.