Recreation Programs and Events
Annapolis Royal Recreation's official mascot, "Sammy" Champlain!
GYM CLOSURE
The Hub Gym will be closed from 9AM on Feb. 13 until 9PM on Feb. 17 in order to strip and re-wax the floor.  This will greatly improve safety and quality of play for all activities.  No activities may take place during this time, and all access to the gym is forbidden, including stage and locker rooms.  Please contact your program leader for more information.
Sport Programs and Fitness Classes
Annapolis Royal Recreation offers and supports a number of weekly sport and fitness opportunities for residents and visitors.
A few things to remember before registering for a program:
Masks are highly recommended. 
Please sanitize your hands upon entry and exit.
If you are not feeling well, please stay home until you are better!
Adult Pickleball (Age 18+) @ The Community Hub Gym, Annapolis Royal
Pickleball is a racquet sport that combines elements of badminton, tennis, and table tennis. Two to four players use solid paddles to hit a perforated polymer ball, similar to a wiffle ball, over a net.  
Upcoming sessions: 
Feb 20, 2023  TO  Jun 9, 2023 (All registrations open on Feb 7 at 9AM)
**This year, we will be shifting the language from Beginner, Intermediate and Advanced/ "Pro" to a Pickleball Nova Scotia rating format to help you find your best match for pickleball play. We want everyone to have several options and hope that these sessions will be a good balance to provide everyone with enjoyable pickleball play. 
A player may register for a different skill level session in the subsequent session should their play level develop and space permits. Due to demand, players are limited to 2 hrs of play/day within the group they register for. 
In order to help determine which time slot would be best for your level of play, we ask that you take a look at the Pickleball Nova Scotia Self-Assessment Guide located at: 
https://pickleballnovascotia.com/self-assessment-guidelines
​**NEW**​ Open Play (skill level: any skill level) 
1 time a week – Tuesday 6-8 PM 
Cost: $50 February 21, 2023 to May June 6, 2023 
​Beginners, New Players & Recreational Play (skill level: up to 2.9) 
3 times a week – Monday, Wednesday, Friday 1-3PM 
Cost: $80 February 20, 2022 to May June 9, 2023 
Leader: Sandra Sexton
Intermediate (skill level: 3.0 to 3.5)  
3 times a week – Monday, Wednesday, Friday 3-5PM 
Cost: $80 February 20, 2022 to June 9, 2023 
Leader: Sandra Sexton
Advanced (skill level: 3.6 & above) 
** To register and participate in this session, players must be a registered member of Pickleball Nova Scotia and have been officially assessed by this organization at 3.6 & above skill level player. 
3 times a week – Wednesday, Friday, Sunday 10AM-noon 
Cost: $80 February 20, 2022 to June 9, 2023  
Leader: Mike Scott
Please bring your Pickleball NS assessment upon registration.
A 2-visit pass for the afternoon sessions is available at the cost of $10 (2 visits at two hrs each).  
Registration for the Feb-June session opens Tuesday, February 7, 2023 at 9AM.
To register, you must call 902-955-1205 or email alc@annapolisroyal.com  
Space is limited, and please do not leave a voicemail to register, calls will be answered ASAP!  Email registrations received before this time will not be honored, and registration is first come, first served. Payment and paperwork will be required on the first session that is participated in or by Oct 31, 2022, whichever is first. Cheques can be made out to "Town of Annapolis Royal", and cash is accepted, but sorry, no e-transfer or credit card payments are available at this time.  
The Following sport programs run October 2022-June 1, 2023.  These are paid up front for the whole season and can be joined at any time upon the first session you attend.  A prorated rate will be made available for those who join as the season progresses.
Indoor Soccer (age 14+) @ the Community Hub Gym – Starts October 5, 2022
Leader: Hector Lopez
Wednesdays 7:00-9PM, Fridays 5-7PM
Cost: $120/year, October 5, 2022-> June 1, 2023.  Join anytime, prorated rates available as the season progresses.
Adult Volleyball (18+) Starts October 2, 2022
Leader: Daniele Carriere
Sunday 630-830PM, Adults 16+,
Cost: $100/year, join anytime
Recreational Table Tennis (18+) @ the Community Hub Gym Starts October 6, 2022
Leader: Rita Ernestsons
Thursday 1:00-3:00pm
Cost: $100/year
Monday Night Adult (18+) Basketball  – Fall/Winter Session Starts Monday, Oct 17, 2022
Leader: Sam Anson
Monday 8-9:30PM
Cost: $100/Year
Monday Night Junior Hoops (Grades 3-5)! Starts Oct 17, 2022
***Please note: as of October 12, this program is full and pre-registration is now closed***
Pre-Registration Opens Oct 6 – call 902-955-1205 or email alc@annapolisroyal.com to pre-register!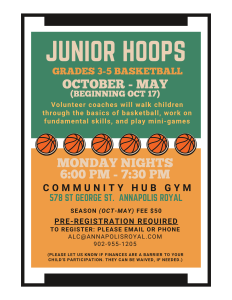 Leaders: Sam Anson and Anna Kate Newman
Cost: $50/yr
Friday Night Youth Basketball (ages 12-18)
Leader: Ryan Scranton
Fridays 7:00PM Starting October 21, 2022
Cost: Free! thanks to After School Program Funding provided by AVRCE and Town of Annapolis Royal
*Please call 902-955-1205 before joining/attending this basketball program, as program/leader/gym availability may vary during school sports seasons.
Tai Chi Group – Tuesday and Thursdays at 10AM
Leader: Lorna M
Tuesday & Thursday 10AM-10:45AM
Cost: $80/year, join anytime
If the costs associated with any programs are a barrier to participation, please contact Annapolis Royal Recreation to discuss options – alc@annapolisroyal.com or 902-955-1205
Please note:  Annapolis Royal Recreation and Town of Annapolis Royal are a zero tolerance workplace.  Staff reserves the right to remove program participants from programs at any time based on violent, aggressive, or inappropriate behavior, and players will not be refunded.  The Town of Annapolis Royal's Anti Violence in the Workplace Policy can be viewed here:
https://annapolisroyal.com/anti-violence-in-the-workplace/
Tennis in Annapolis Royal
Fall is here, so it's time to get out and enjoy Annapolis Royal's community tennis courts located on Champlain Drive next to AWEC!
Accessing the courts: There is no cost to use the courts, but you must now register to receive the combination to the gate lock by contacting alc@annapolisroyal.com, by calling 902-955-1205, or by visiting Town Hall. The courts are open to all, and children under 12 must have parental supervision.
The Annapolis Royal Tennis Club is always looking for new members. Seasonal membership rates for all play is $50 adult/$30 student. The fee for vacationers is $5/week to play on club doubles days. To become a club member, please join the club at one of their scheduled play times. All skill levels are welcome, and this is a super fun community organization to join!. There are also doubles tournaments that are open to the public on all holiday weekends. Please call Mike Scott at 902-532-5107 for more info.
Summer Youth Tennis Camps will be offered this annually with details to follow. For more information on any of the above, or to borrow some tennis equipment to go give it a try, please contact Noah Scanlan, Active Living Coordinator, at alc@annapolisroyal.com, or call (902)-955-1205.
Tournament Doubles Dates (2022) – (Open to the Public – Entry Fees are $5.00/person)
Steve Rhymer Memorial – Sunday June 12
John Rodie Canada Day Tournament – Sunday July 3 – Starting at 1pm
Grant Potter Natal Day Tournament- Sunday July 31 – Starting at 1pm
Fallen Comrades Labor Day – Sunday September 4 – Starting at 1pm
Tennis Club Reserved Times:
+++++
For up to the minute information on gym availability saved on your web browser or phone, please use this link:
For more information please contact Noah Scanlan at 902-955-1205, or email alc@annapolisroyal.com
Annapolis Royal Recreation on Facebook
Annapolis Royal Recreation has its' own Facebook page featuring ongoing updates about recreation opportunities in Annapolis Royal, as well as fun tips and strategies for for staying healthy, fit, and happy.  Please click here to visit this page, "like", and join this group!
The Academy Loft Climbing Gym
The Annapolis Valley Climbing Club's new indoor rock climbing gym located at the Academy Gym.  For a complete list of their programming please find them on Facebook at https://www.facebook.com/annapolisvalleyclimbingclub/, or email annapolisvalleyclimbingclub@gmail.com for information on events or becoming an AVCC member.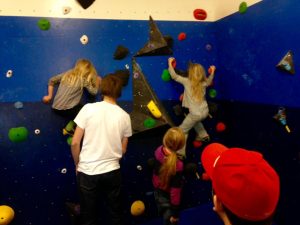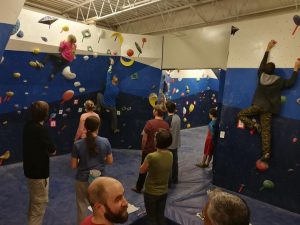 Walk Annapolis Royal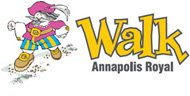 Annapolis Royal offers a number of different walking paths and routes for both recreation and to incorporate "active transportation" into your daily routine, all outlined in our handy map.
Walking_Map as Pdf
Or Download the brochure »