Recreation Programs
For up to the minute information on gym availability saved on your web browser or phone, please use this link:
For more information please contact Noah Scanlan at 902-955-1205, or email alc@annapolisroyal.com
The Outdoor Skating Rink in Now Open
Annapolis Royal's outdoor rink, located in front of The Academy @ 590 St. George street, is open! Hockey is permitted from 4pm-6pm daily, and at other times only if there are no other skaters on the ice. There is public washroom access in the gym at the Academy Monday-Friday from 9am-4pm.
2016-17 Weekly Sport, Fitness, and Active Living Programs in Annapolis Royal
Power-Hour Class @ ARRA: Mon 8:00 -9:00PM, Wed 6:30-7:30pm, and Thurs 6:30-7:30PM. Starts October 24. Monday classes are designed to accommodate new participants who may be new to fitness classes, but open to all skill levels. Fall Session $80 for 24 classes, $50 for 12, or a drop in fee of $5.00. Starts November 2 Instructor: Jane Power Grimm
Zumba! @ ARRA – Tuesdays 6:00-7:00PM, Starts October 4. 8 Classes for $35, or $5.00 Drop in. Leader: Wendy Abramson
Pilates @ ARRA – Mondays and Thursdays at ARRA. 5:30-6:30PM. Leader: Pat Lohrenz. 16 Class for $70, or $5.00 drop-in per class. Starts Oct 3.
Indoor Field Hockey ARRA: Mon 7:00 – 8:00PM Grade 9 +, Starts Sept 14, $35 Leader: Mike Fearon
Indoor Soccer ARRA: Wed 8:20 – 9:30 Grade 9 +, Starts Sept 23, $35 Leader: Paul Lalonde
Volleyball (Co-ed) AWEC: Sun 7-9pm Ages 16 +, Starts TBD, $35 Leader: Terry Murphy
Badminton AWEC: Thursday 7:30-9pm Grade 9+, Starts TBD, $35, Leader: Mike Scott
Cricket ARRA: Wednesday 5:30-7PM, Starts Mid-October, $35, Leader: Ryan Scranton
Table Tennis ARRA: Tues 7-9 & Thurs 7:30-9pm Starts Oct 1, $30 Leader: Pierre Igot
Ball Hockey ARRA: Thurs 8:10-9:30pm Leader: Alex Cranton, Starts October 6
Pickleball @ ARRA Thursdays and Fridays 3-5PM, $35, Leader Jean-Louis Batiot, Starts Septemeber 29 (Special "Learn to Play Pickleball" session!)
ARRA =Annapolis Royal Regional Academy
AWEC=Annapolis West Education Center
Please "like" Town of Annapolis Royal on Facebook to stay up to date on program news!
Please stay tuned to this site or Facebook for information on new programs!
For more information on these programs please contact Noah at alc@annapolisroyal.com, or call (902)-955-1205. You can pre-register, or register at the first session. Student discounts are available.
Walk Annapolis Royal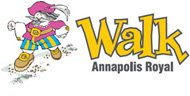 Annapolis Royal offers a number of different walking paths and routes, all outlined in our handy brochure.
Download the brochure »