Recreation Programs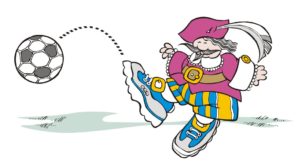 Annapolis Royal Recreation's official mascot, "Sammy" Champlain!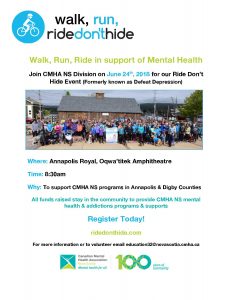 The Academy Loft Climbing Gym
The Annapolis Valley Climbing Club's new indoor rock climbing gym located at the Academy Gym.  For a complete list of their programming please find them on Facebook at https://www.facebook.com/annapolisvalleyclimbingclub/, or email annapolisvalleyclimbingclub@gmail.com for information on events or becoming an AVCC member.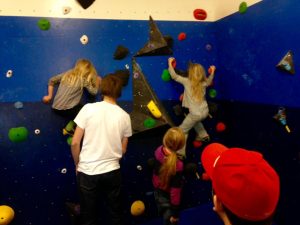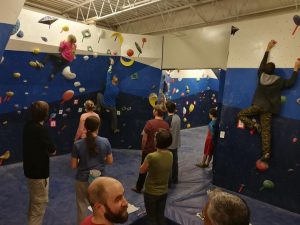 Sport Programs and Fitness Classes
Annapolis Royal Recreation offers and supports a number of weekly sport and fitness opportunities for residents and visitors. The current fall schedule is posted below, with new programs and special events being posted all the time.  An up-to-the-minute calendar is posted below the schedule, with copyable links available for easy reference.
Power-Hour @ The Annapolis Academy Gym .
Power Hour is a challenging fitness class that focuses on strength, cardio, and flexibility! Monday's classes are designed to accommodate new participants who may be new to fitness classes, but are open to all skill levels. Leader: Jane Power-Grimm. Mondays 8:00 – 9:00pm, Wednesdays 6:30 – 7:30pm, and Thursdays 6:30 -7:30pm.  Starts: Classes are currently ongoing until May 2018. $5/Class
*Please Note: Power Hour returns June 13-August 9 for a special Summer Session!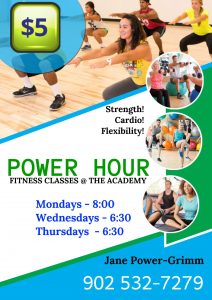 Zumba!  @ The Annapolis Academy Gym.    
Zumba is an aerobic fitness program featuring movements inspired by various styles of Latin American dance and performed primarily to Latin American dance music. Leader: Wendy Abramson Tuesdays 5:30-6:15. Starts: Tuesday, May 8, and runs until June 26.
Cost:  $7/Class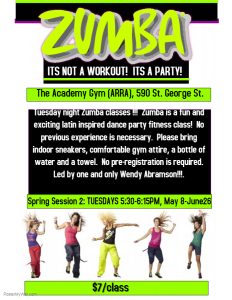 POUND! @ The Annapolis Academy Gym.  
This is group fitness inspired by drumming!  Leader: Wendy Abramson
Tuesdays 6:15-7PM, May 8-June 26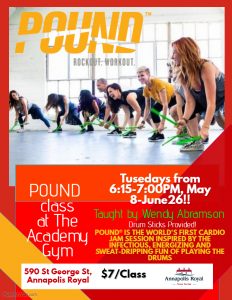 ***Special Spring Sale!*** Join Zumba AND Pound (which run back-to-back on Tuesdays), and get all 8 of BOTH classes for $80!
Pilates @ The Annapolis Academy Gym  Starting Feb 22
Pilates is a movement discipline that integrates body awareness, deep breathing, flexibility, core strengthening, and coordination.  It
improves strength, body alignment and stimulates circulation.  Leader: Susan Beattie Classes thoughout the spring Thursdays 5:30-6:30pm.  Cost is $10/class.
Starts again for Spring February 22, 2018!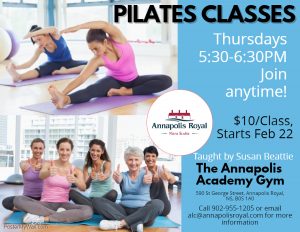 Pickleball @ The Annapolis Academy Gym   
Pickleball is a racquet sport that combines elements of badminton, tennis, and table tennis. Two, three, or four players use solid paddles  to hit a perforated polymer ball, similar to a wiffle ball, over a net. Leader Jean-Louis Batiot Mondays 1:00-3:00pm, Wednesdays and Fridays 3:00-5:00pm, Starts: Monday, Oct 3 (Sorry for the change and delay in start date!) Cost: $50/year for a 3x/week membership, $35 year for 2x/week membership, $5 drop in rate.  "Late in the season" discounts currently available – join anytime!
Indoor Field Hockey @ The Annapolis Academy Gym
Leader: Mike Fearon
Mondays 6:45 – 8:00om Grade 9+,  Starts: October 2 and runs through May
Cost: $35/year
Indoor Soccer The Annapolis Academy Gym
Leader: Katie McLean
Wednesdays 7:45 – 9:30pm Grade 9+, Starts: October 4
Cost: $35/year
Volleyball (Co-ed) @AWEC:
Leader: Terry Murphy
Sunday 7:00—9:00pm Ages 16+, Starts: October 1
Cost: $35/year
Badminton @ AWEC:
Leader: Mike Scott
Thursday 7:30-9:00pm Grade 9+, Starts: October 5
Cost: $35/year
Table Tennis The Annapolis Academy Gym
Leader: Pierre Igot
Tuesday 7:00-9:00pm & Sunday 2:00-4:00pm, Starts October 17
Cost: $30/year
Ball Hockey @ The Annapolis Academy Gym
Leader: Alex Cranton
Thursday 8:00-9:30pm , Starts: October 5
Cost: $35/year
If the costs associated with any programs are a barrier to participation, please contact Annapolis Royal Recreation to discuss options.
For up to the minute information on gym availability saved on your web browser or phone, please use this link:
For more information please contact Noah Scanlan at 902-955-1205, or email alc@annapolisroyal.com
Annapolis Royal Recreation on Facebook
Annapolis Royal Recreation has its' own Facebook page featuring ongoing updates about recreation opportunities in Annapolis Royal, as well as fun tips and strategies for for staying healthy, fit, and happy.  Please click here to visit this page, "like", and join this group!
Walk Annapolis Royal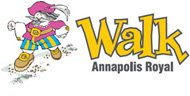 Annapolis Royal offers a number of different walking paths and routes for both recreation and to incorporate "active transportation" into your daily routine, all outlined in our handy map.
Walking_Map as Pdf
Or Download the brochure »